Why do business with Oak City Insurance?
Unlike a captive, or direct insurance company who only offers their own proprietary products, our agency is 100% independent of any one company. Many insurance consumers don't fully understand just how important that really is.
When it comes to something as important as insurance, it's imperative that you work with an agency who has an in-depth knowledge of multiple insurance products, companies, and guidelines — not just one.
At the end of the day, what separates one agent from another, is their ability to proactively service their policy holders, and their knowledge of the insurance industry, products, and different situations that may present themselves to their clients.
Our Core Values
Keep Insurance Simple:
Our insurance agency is committed to keeping your insurance simple. We believe that everyone should be able to understand their policy, and we are here to help you every step of the way. Whether you need assistance understanding a complex policy or just want someone to explain it all to you in easy-to-understand language, we are here for you
Here For YOU
Our insurance agency always puts our clients first. We work hard to find the best policies for them, and we make sure that they are always aware of their options. We never try to sell them something that isn't right for them, and we always work to get them the best possible rates. We truly care about our clients, and we want to do everything we can to help them.
Be Honest and Transparent
At our insurance agency, we believe in being honest and transparent with our clients. We understand that the process of shopping for insurance can be confusing and frustrating, so we do everything we can to make it as simple and straightforward as possible. We take the time to explain your options and help you compare different policies, so that you can make an informed decision about which one is right for you. We also believe in being upfront about pricing, so there are no surprises.
Independent Agent Vs. The Rest
Here is a quick comparison of the differences between an independent agency like us, and the various other types of companies that are out there: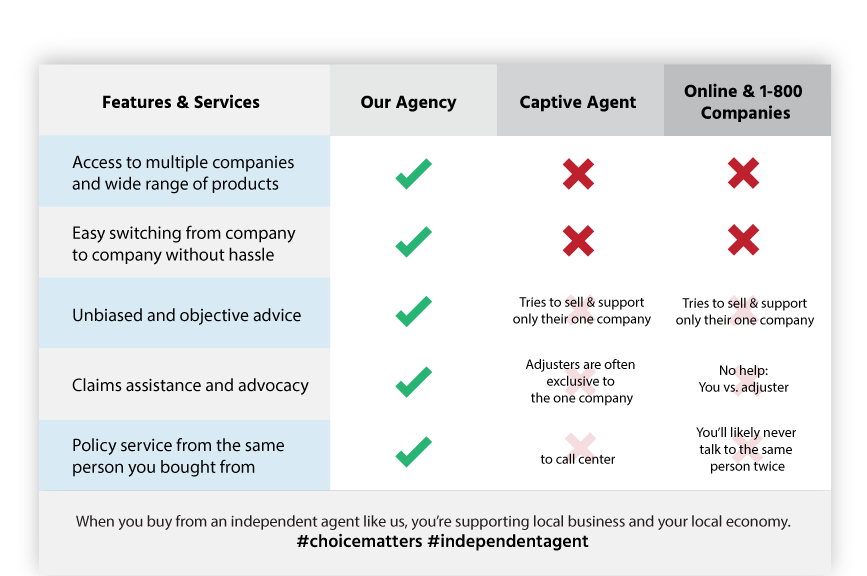 If you'd like to get started with a complimentary quote and/or policy review, we'd be happy to help you any way we can. Simply complete the fields below to get started online in a matter of seconds.
We appreciate the opportunity to help you, and look forward to servicing your insurance needs! Feel free to call us directly if you have more detailed questions.
Want Learn More About the Owner Eli Alcorn! Check out his story and blog HERE.